Veranstaltungen
Montag
10.07.
19:00 Uhr
Musik
little league shows
reverberation fest & little league shows prsnt: MARGARITAS PODRIDAS (mex) & BLUE CHESTERFIELD (cz)
doors 19h, show 20h
MARGARITAS PODRIDAS
...(Rotten Daisies) is a rock band formed in Hermosillo, Sonora, which consists of Carolina Enríquez (bass/vocals), Esli Meuly (guitar) and Rafael Armenta (guitar/drums). Their debut album "Porcelain Mannequin" was released in 2018, it is available on all common music platforms and it was released on vinyl. Three years later they released their second album self-titled "Margaritas Podridas" in April of 2021 and they have been very active since, playing important shows in Mexico and United States such as opening for IDLES in Mexico City at Palacio de Los Deportes, Festivals such as Golden Voice's This Ain't No Picnic (Pasadena, California) Ruido Fest (Chicago,IL) and opening for the Melvins in Los Angeles. Their latest single "No Quiero Ser Madre" was released recently this year in August, bringing back the punk and raw sound that characterizes the band. Margaritas have recorded important live sessions such as KEXP from Seattle (available on YouTube) and VansChannel666, and they are currently working on the recording of what would be their third album for the next year. In 2023 so far they have already announced a show with The Smashing Pumpkins in Mexico City at Foro Sol among other relevants bands and artists such as Deafheaven, Turnstile and Peter Hook, as well as big bands from Mexico such as The Warning and El Shirota. The festival will take place in Foro Sol which is one of the biggest forums in Mexico with almost 60,000 capacity. Margaritas are one of the most active and outstanding proyects from Mexico's Rock Scene and they have plans to continue touring around the U.S., Europe and Latin America with the purpose of expanding their crowd and sharing their music and contagious energy with the rest of the world.

https://youtu.be/tAbAofaCcfc
https://www.facebook.com/MargaritasPodridas
https://margaritaspodridas.bandcamp.com/
https://www.instagram.com/margaritaspodridas/

BLUE CHESTERFIELD (CZ)
Blue Chesterfield is a project started by singer, poet and multi-instrumentalist David Jirka from Czech Republic who has been later accompanied by several musicians who together created the same titled band. Their influence in more traditional genres like Country, Blues or Psychedelic Rock is a root stone for their sound, but Blue Chesterfield are not afraid to experiment with stuff like Shoegaze, Noise or even Jazz, together with its wild live performances creating a sonic experience that will be remembered.

https://youtu.be/dDx0NBIJZjY
https://www.facebook.com/bluechesterfield
https://bluechesterfield.bandcamp.com/
https://www.instagram.com/_bluechesterfield_/
Mittwoch
12.07.
19:00 Uhr
Musik
thirsty & miserable
Speed!! Noise!! Hell!! (Kochi City Trash Noise Violence, Japan) + tba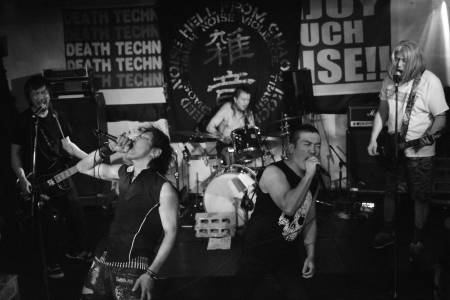 doors 19:00 - show 20:00
Speed!! Noise!! Hell!!
Japanese Hard Core Band in Kochi City.


Donnerstag
13.07.
19:00 Uhr
Musik
READY STEADY GO
Salamirecorder And The Hi-Fi Phonos (60s Garage Punk-AT) & Swiss Pleasure (Dream Pop, Post-Punk_Berlin)
Vinyl DJ`s pleasures by Simo Alienslut (Fessa) & Suzy Creamcheese (Berlin Beat Invasion)
SALAMIRECORDER & THE HI FI PHONOS (Austria)
If you have to describe the music, its probably like a weird slightly annoyed outsider
but with a melting heart for love songs. A perfect shake between 60s Back from the
Grave Garage punk and a little breeze of early trash mixtape Powerpop.
Something… …weird, loud, rocknroll noise!!!
SWISS PLEASURE (Berlin)
Formed in Berlin in 2021, Swiss Pleasure (Agathe, Alea & Claire, none of which are actually from Switzerland) is influenced as much by dream pop, post-punk, stoner, psych and even jazz acts. The band is intentionally formed of FLINTA* members, to preserve and promote a certain type of expression that is historically underrepresented and marginalised. The story of Swiss Pleasure is an aspirational one, to grow as musicians, while keeping at heart a strong sense of vulnerability.
Freitag
14.07.
19:00 Uhr
Musik
OFFBEATCLUB
Bonfi & Downtown Steppas (Reggae, Ska & Jazz)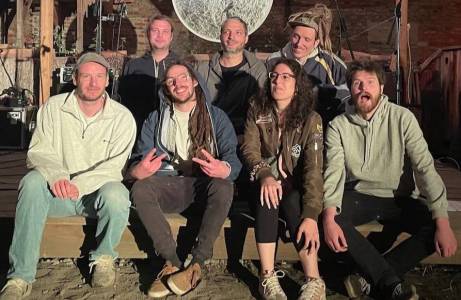 Wir bieten eine Reggae-Live-Show mit verschiedenen Sänger*innen und einem Finale.
Background
Ungefähr im Jahre 2009 war wohl die Geburtsstunde von BONFI HAISCHISCH. Der Sound bestand immer aus groovigen Jams von Reggae, zu Funk, Jazz, Rock, Ska, Blues. Die vielköpfige Band - immer zwischen sechs bis neun Menschen - bespielte hauptsächlich die Hauptstadt und Umland mit 120+ Konzerten. Es kamen Musiker hinzu und verließen die Band wieder, doch ein Kern aus drei Leuten ist bis heute erhalten geblieben. Dieser Kern heißt jetzt nur noch "BONFI": Markus an den Drums, Philipp am Bass und Ju am Synth/Keys - sowie ein E-Gitarrist. Nun 2023 bieten diese Musiker andere*n Sänger*innen, die Möglichkeit live vor Publikum auf groovige Reggae-Beats zu singen. Bei uns steht die Musik im Vordergrund und Berlin bietet vielen Musiker*innen ein Zuhause. Das wollen wir aus vollem Herzen unterstützen.
Aktuelle Besetzung
Drums - Markus Friedrich
Bass - Philipp Breuer aka MC Waldschrat
Keys - Julius "Ju" Ensinger

Als Sänger*innen sind u. A. dabei:
- Yann Loisel: https://www.youtube.com/watch?v=5ilHfdMAHnw
- Dareel Marley https://www.youtube.com/watch?v=XmvAIY-Jf8k
- Ann Hero https://www.youtube.com/watch?v=gEkmi33Fb5M
- Aaron Deschler https://www.youtube.com/watch?v=-nuBa84GYqM
- Sarya Polat
Mittwoch
19.07.
19:00 Uhr
Musik
Lofi Lounge
loFi lounge prsnts: Safi [indie°leipzig] + Feline & Strange
https://www.youtube.com/c/safimusic.com
SAFI
SAFI ist laut. Intensiv, Ausnahmezustand. Ambivalenz und Zerrissenheit sind Normalzustand und Ausgangspunkt. Die kombinierte Virtuosität aus viereinhalb Oktaven Stimmumfang, der klassischen Gesangsausbildung und dem Kunstdiplom sind Fundament, niemals Selbstzweck. SAFI zeigt ihr Gesicht mit schnörkelloser Geradlinigkeit, pur, groß. Umarmt von einer gewaltigen Klangmauer. Safis neue Arbeit GROTESKE ist ein kompromissloses Gesamtwerk – ein gewaltiger Sturm mit Signal zum Aufbruch. Das Auge dieses Tornados: Safi.
Safis Worte, scharfkantig, unbequem und wahrhaftig, sind Splitter von Realitäten, die in die Klanglandschaft geschleudert werden. "Der Moment, der zwischen deinen Nerven klemmt…". Lyrik und die unverkennbare, rauhe, unbeugsame Dringlichkeit ihrer Stimme definieren Safis wachsamen Blick auf die Dinge – politisch, düster, real. Songstrukturen treten sich neue Pfade und morphen in Wall of Sounds aus Gitarren und Geräuschen. Safis Kompositionen sind spröde biegsam, kratzig schön, schleudern die Textzeilen hoch, brechen sie, folgen ihnen. Und wenn keine Worte sind, schäumen die Klänge wütend auf und bilden ihre eigene Sprache.
GROTESKE wird Safis drittes Studioalbum sein. Es wurde produziert von Soundkreateur Moses Schneider. Die Stücke wurden in Echtzeit gespielt, gesungen und live aufgenommen in den Hansa Studios Berlin. Gäste der Krachgemeinschaft sind Dennis Lyxzen (Refused, INVSN, The International Noise Conspiracy), Sebastian Madsen (Madsen), Cäthe, Rummelsnuff und Paul Seidel (The Ocean Collective). Die ersten Singles vom Gesamtwerk GROTESKE werden in 2023 veröffentlicht, das Album wird 2024 bei Rookie Records erscheinen.
Safis Band setzt sich dreiköpfig zusammen aus Jörg Wähner (Apparat) – Schlagzeug, Matthias Becker – Gitarre, Bass und Safi – Stimme, Gitarre, Synthesizer und Samples.
Mit dem Vorgänger-Album JANUS tourte sie neben zahlreichen Konzerten in Deutschland unter anderem auch als Support für WIRE (GB), REFUSED (SWE), Masters Of Reality (US) und MILLIARDEN (GER). Darüber hinaus entstand in Zusammenarbeit mit Alexander Hacke (Einstürzende Neubauten) die Single GOLEM.
Safi kollaborierte mit Kettcar, DYSE, Aydo Abay, Angelika Express, Shirley Holmes, Astrid North, Lulu Schmidt, Danielle de Picciotto, Chris Goss, Dave Catching, Miron Zownir und John Bock. Sie wirkte mit im Konzertfilm "Dulap Alpaloma" (Arte / Arte Concert) in der Gesamtkomposition von Catherine Milliken und Dietmar Wiesner. Im Film "Electric Girl" von Ziska Riemann ist Safi mit zwei Titeln vertreten. Safi wurde nominiert für den Deutschen Musikautorenpreis 2017 in der Kategorie Komposition/Pop.
https://www.facebook.com/Safi.rauscht
https://www.instagram.com/safi.music/
https://www.youtube.com/c/safimusic
https://open.spotify.com/artist/2n2eZLqNGV1nHke06lSTbo?si=2jVQQmyqRUu-ql48HSBOuA
FELINE & STRANGE
Die beiden Künstlerinnen Safi und Feline verbindet die unbedingte Kraft ihres Ausdrucks, die mit theaterhafter Geste das Publikum in dunkle musikalische Sphären zieht. Feline & Strange begleitete SAFI zu Beginn des Jahres auf Kurztour, wo sie ihre künstlerischen Gemeinsamkeiten schätzen lernten und sich gegenseitig inspirierten – deshalb ein Muss, sich auch an diesem Abend in beider Heimatstadt die Bühne zu teilen.
Feline Lang ist Opernsängerin, Cabaret-Pianistin, Sounddesignerin, Schauspielerin, Regisseurin und vieles mehr - alles, was man auf oder vor einer Bühne tun kann - und Feministin durch und durch. Zu avantgardistisch für Pop, zu klassisch für Jazz, zu bunt für Oper - also schuf sie mit ihrer Band "feline and strange" kurzerhand ein eigenes Genre, das sie gern mit "Dark Cabaret" oder "Wave Cabaret" umschreibt, je nachdem, ob sie gerade akustisch am Klavier oder voll elektronisch ihre außergewöhnliche Stimme und Performance unterstützt. Ihr Sound ist stark vom Art-Punk der 1980er Jahre beeinflußt, geht aber zunehmend neue Wege in formaler und klanglicher Hinsicht. Ihre Texte sind ausufernde Bildgewitter in unzähligen in der Musik gespiegelten Ebenen, aber auch zynische Anklagen in englischer und seit neuestem auch deutscher Sprache.
www.facebook.com/felineandstrange
www.instagram.com/felineandstrange
Spotify:
https://open.spotify.com/artist/3pWNxirXlW30feuudGH2d8?si=7iBBYOorSHyYG9RaURdVbw&nd=1
Freitag
21.07.
18:00 Uhr
Musik
Hoffest
33 Jahre Schokoladen - HOFFEST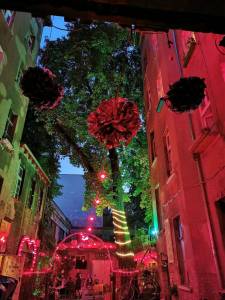 33 years of Alternative Culture & Cheap Beer
Samstag
22.07.
18:00 Uhr
Musik
Hoffest
33 Jahre Schokoladen - HOFFEST
33 years of Alternative Culture & Cheap Beer
Donnerstag
27.07.
19:00 Uhr
Musik
wello rausch prsnts: Güner Künier [synthwave post punk psychedelic°bln°türkiye] + Merely Minds [rock°bln]
after 22h: dj hellerthanhell (reverberation/sharewood booking) & more (psych worldwide grooves funk)
Güner Künier
Güner Künier is deploying her voice over old school and industrial drums infused with lo-fi guitar and synthesizer sounds. Her debut album also invokes a psychedelic 70s vibe, although it's been adapted for the present day. You'll also find some synthwave tracks and Turkish lyrics in there. It features a great mix of genres which leads to a unique style. Her stunning live performances over the past few years have also sent strong and promising signals.
all links: linktr.ee/guenerkuenier
instagram: www.instagram.com/guenerkuenier
facebook: www.facebook.com/guenerkuenier
Merely Minds
Born and raised in Berlin in 2019, Merely Minds bring the most of energetic and emotional rock music to the audience. Since day one, their motto is "BE WHO YOU ARE", expressed through lyrics, music style, and even their fashion in concerts and daily life. Since their creation with Dan Perry (vocals), Luke Maz (drums) and Gaylor Ricciardi (guitars), being greatly added up by Felix Avarian (piano & FX) and Simon Henschen (bass), this international group brought the attention of several people, being invited to concerts in different cities and even winning contests around Germany, such as Spätival Berlin 2020. The most recent accomplishment was participating in the Bundeslfinale (National Finals) of Local Heroes in 2021, an important organization that discovers great talents, such as Tokyo Hotel in the last decades. Combining the inspiring voice of Dan, the wild beats of Luke, the absolutely rocky guitar riffs from Gaylor, the expressive keys of Felix and the ultimate groovy bass from Simon, Merely Minds has a lot to offer and express. Through their performances, you'll feel inspired of being proud you yourself. Mostly influenced by Queen and Muse, their mission is to bring meaning to every different moment of a lifetime.
https://www.youtube.com/watch?v=Xj2gm7CqOnI
Samstag
29.07.
19:00 Uhr
Musik
Glimmer (Indie) +Thirteen (Tribute) + Walkin' Jay Thompson (Alt. Country) + Van Weber (Rock)
Ein Abend mit Glimmer und Freunden. Aus Los Leos wurde inzwischen Glimmer. Als Trio stellt sich die Band mit neuem Programm vor. Außerdem präsentieren zwei ihrer Mitglieder an diesem Abend auch ihre Solo-Projekte. So gibt es sowohl Solostücke von Van Weber als auch Alternative Country von "Walkin'" Jay Thompson. Als Freunde der Band bringen "Thirteen" aus Hannover noch einen Johhny-Cash-Tribute und schließlich endet der Abend dann mit Glimmer. Auf einen glitzernden Abend!