Veranstaltungen
Freitag
23.06.
19:00 Uhr
Musik
OFFBEATCLUB
Battle of the Bands: Team Tyson (GaragePunk) vs. Spartan Allstars (Rocksteady, Reggae, Ska)
Zwei Band jeweils 15 Minunten immer in wechsel. Garage-Punk vs. Rocksteady, Reggae und Ska. Schnell und laut gegen groovenden Offbeatsound. Es ist erstaunlich, gut dieses Wechselspiel funkioniert. Es ist einfach großartig. Don't miss it!
Samstag
24.06.
19:00 Uhr
Musik
Acid Tongue (US) & Tommy and the Teleboys (DE)
Aftershow with Heller Than Hell & Flux Wildly
REVERBERATION FEST & Süper.Nice.Shows present:
ACID TONGUE (US) + Tommy and the Teleboys (DE)
Aftershow with Heller Than Hell & Flux Wildly

Doors: 19.00
Shows: 20.00
Aftershow: 22.00

ACID TONGUE
Guy Keltner, the primary songwriter for Acid Tongue, took a rough couple of years and turned them into libretto. "I became incredibly depressed and started spending a lot of time at the Arboretum in Seattle. I had just moved home and was spending all day absorbing this diversity of plants and sounds at the park. I poured myself into writing some deeply personal songs, heavily influenced by the artists in my immediate orbit." During the recording of Arboretum, Keltner was diagnosed with bipolar disorder, and decided to get sober from alcohol. "Kicking booze helped me focus in the studio, but I needed help finishing this album. I was incredibly fortunate to work with musicians that I actually listened to and enjoyed. They individually elevated each song to be something beautiful and unique."
The members of Seattle rock & roll outfit Acid Tongue are quite literally bouncing off the walls. In fact, it's hard to even call them a "Seattle band". There's the core duo of songwriter Keltner and drummer/vocalist Ian Cunningham—currently based in the Pacific Northwest—but with numerous touring and studio musicians scattered between Paris, New York, London, Mexico City, Los Angeles, & Austin, the rotating roster seems to grow larger by the day.. The band's latest release, Arboretum, takes things in the next logical direction. Part glam-rock opus, part mixtape, this LP from Acid Tongue marks a significant step forward for a band well-versed in straddling the line between psychedelia and power-pop.


TOMMY AND THE TELEBOYS
...play psychedelic death boogie in the wasteland between Halle and Berlin. Inspired by the raw energy of garage and noise, their music is loaded with a ten-ton shovel of guitar riffs and driving synth lines. Psychedelic soundscapes alternate with hard-hitting fuzz storms and sugar sweet westcoast melodies.This is a sound that yearns for the golden era of psychedelic rock yet plays joyfully with innovation and weirdness.
Tommy and the Teleboys consist of Tommy (Drums,Synth, Vocals) and the Teleboys (Vocals, Guitars, Bass, Synth). This formation came together during the uncertainty of the pandemic. They managed to grow into a well-rehearsed unit after scoring local gigs despite the difficult times. After months of hard work and two studio EPs Tommy and the Teleboys have hit their current style. So no time to rest - new releases are in the making.It*s gonna be wild.

HELLER THAN HELL (Afro, Carribean, Latin, Soul, Funk, Garage, Oriental, Disco, Psychedelic)
https://soundcloud.com/hellerthanhell
https://www.facebook.com/hellerthanhell/
FLUX WILDLY (Weird, Obscure, Rock, Crazy, Tropical, Surprising)
https://www.mixcloud.com/.../radio-brain-wave-20-march-2022/
Reverberation Fest's long-time host jets up the road to deliver musical code.
Montag
26.06.
19:00 Uhr
Musik
Lost Love (catchy Pop-Punk/Montreal) + Wasted Years (Punk/Köln)
Founded in 2013, Lost Love is a melodic pop punk band from Montreal, characterized by their catchy choruses and eternal optimism. To date, the band has played over 350 shows in more than 15 countries across Europe and North America, earning new fans with their unique sound.
Wasted Years from Cologne is a five-piece that plays a dynamic punk sound with youthfull references of the late 90's and early 20th, with vocals that tame the wild distorted beast.
Mittwoch
28.06.
19:00 Uhr
Musik
Punkfilmfest Berlin Booking
TOTAL CHAOS (US) + Daran SchaitertZ (Berlin)
Thirty years ago in Pomona Valley, California, was the birth of Total Chaos. Created outof the desperate need to savea dying genre of punk rock, during a time that the market was saturated with a more commercial new style.It was more important than ever to express their social and political views. The idea of social responsibility was a significant thing, from organizing peace punk picnics, to protesting against the gulf war, their music hada meaning and stood for something. Over the years, the band has seen many things come and go, but they have stuck to their original ideals. Whether you are pop punk, street punk, hardcore punk, straight edge, political punk, goth punk, skate punk, crust punk, metal punk, or whatever box they try to put you in, Total Chaos unites you all into one scene:PUNK ROCK
Freitag
30.06.
19:00 Uhr
Musik
little league shows
little league shows & dq prsnt: PRINCESS THAILAND (post-punk/no-wave/noise-rock, fr) + SOFT PATTERN (indie rock, bln)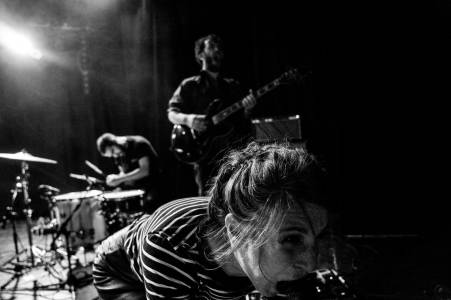 doors 19h, show 20h, aftershow djs tba.
little league shows & dq agency prsnt:

PRINCESS THAILAND /// post-punk/no-wave, fr
princessthailand.bandcamp.com /// instagram.com/princess_thailand/

& SOFT PATTERN /// indie rock/post-punk, bln
softpattern.bandcamp.com /// instagram.com/softpatternsounds

at Schokoladen. doors 19 uhr, concert starts 20 uhr. tickets at the doors and in pre-sale --> https://vvk.link/2nmkqk0

aftershow djs tba.

---
»After two albums, the first eponymous in 2018 and And We Shine in 2020 (A Tant Rêver du Roi / Luik Records), PRINCESS THAILAND joined again, since July 2022, the Studio Barberine at their publisher Arthur Ferrari, in order to record a new album. During a tour of german stages in August 2022, the band delivered a strong and impressive live experience, the anchor of a sound material in permanent evolution.
Powerful and melancholic, their music is a physical experience, a sound cloud that owes as much to rock as to noise, to no wave as to post-punk. Always in search of a strong identity, Princess Thailand tries new sound experiments in the will to feed a coherent and rich artistic proposal. This one is fully expressed by the choice of a frontal and percussive female voice, combined with feverish and abrasive textures.
Currently in the recording phase, the band is showing ambition for a new inspiring and explosive artistic effort through new tracks in the making.
This new album, scheduled for release in the fall of 2023 on their label A Tant Rêver du Roi, is already shaping up to be a must-have.«

---
SOFT PATTERN is a Berlin based post-punk outfit with Mauro Trotta on drums, Joachim Lenz on bass and Santiago Perez on guitars and vox. They released their first album, Subject Matter, in November of 2022. Their sound blends noisy post-punk drive with indie rock's idiosyncrasies.
Samstag
01.07.
19:00 Uhr
Musik
SONIC BOOM
Mirrors for Princes & Atomik Sahara (both bands indie/pop/rock)
Atomik Sahara a finish-german collaboration, built on tight grooves, love, friendship, and massive riffs.
Mirrors For Princes, the poster children of the thrashgrass subgenre:
Mittwoch
05.07.
19:00 Uhr
Musik
Lofi Lounge
loFi lounge prsnts: Uyuy [latin fusion] + Barbara Cuesta [indie°spain°bln]
Uyuymusic.bandcamp.com
https://www.youtube.com/channel/UCOwEBf1H7oTabuXofRpAzhA
UYUY
Uyuy is a five piece latin-fussion band based in Berlin. Their style merge jazz, art rock, latin, post punk, and prog music in a groovy way. All of the members come from different parts of South america which gives most of the identity to the band.
Uyuymusic.bandcamp.com
Instagram @uyuymusic
Barbara CuestaSchon seit langem verzaubert Barbara Cuesta die Singer-Songwriter-Szene in ganz Deutschland. Nachdem sie ihr Abitur erfolgreich mit Strassenmusik finanzierte und in Düsseldorf zahlreiche Musikpreise gewann, zog die dreisprachige Künstlerin 2003 vom Rheinland nach Berlin, um ihr erstes deutsches Album aufzunehmen, das 2005 bei Universal erschien. Nach erfolgreichen Konzerten in Deutschland, Österreich und Spanien zog sie sich zurück und widmete sich zunächst anderen Projekten. So schrieb sie Theatermusik für Dostojevskijs "Traum eines lächerlichen Menschen" am Westfälischen Landestheater Castrop-Rauxel und war als Songwriterin an diversen Filmprojekten beteiligt. 2011 meldete sie sich mit dem englischsprachigen Album "Shine" zurück und präsentierte sich mit Band und ihren neuen, mal leise entrückten, mal lauten, leidenschaftlichen Songperlen als gereifte Künstlerin. Während einer weiteren Pause widmete sie sich intensiv der Meditations- und Yogapraxis, setzte sich ausführlich mit der Migrationsgeschichte ihrer Familie auseinander, sowie mit den eigenen Privilegien als weißer Frau mit Zugang zu Bildung und Fördermöglichkeiten. In dieser Zeit reifte in ihr der Wunsch, ein politisch sendungsbewusstes Album zu produzieren und zum ersten Mal auf dem eigenen Label zu veröffentlichen. Entstanden sind Geschichten, die mit queerer Vagabundenenergie aufgeladen sind und ihre enorme poetische Bandbreite zeigen. Die GEMA unterstützt das Vorhaben mit einem Stipendium, und so gründet Cuesta 2022 "Santianes Records", benannt nach dem Heimatdorf ihrer Familie in Spanien. Mit Co-Produzentin und Arrangeurin Zeina Azouqah produziert sie die erste Single "Little Blackbird", sowie das kommende Album Euforia, bestehend aus zehn Tracks, die starkes Indie-Pop-Potenzial in sich tragen und gleichzeitig durch kunstvolle Violinen-, Cello-, Klarinetten und Querflöten-Arrangements beeindrucken. Musikalische und textliche Innovation, Menschlichkeit und die Ablehnung von Perfektion – das sind die Zutaten der neuesten Veröffentlichung von Barbara Cuesta. Mit Anklängen von Joni Mitchell, Suzanne Vega und Tracy Chapman haben ihr Gesangsstil und ihr musikalisches Können Barbara Cuesta wohlverdiente Auszeichnungen in ganz Europa eingebracht. Am 05. Juli wird die Deutsch-Spanierin ihre neuen Songs mit Bandbesetzung im Schokoladen vorstellen: M.Rider wird E-Gitarre und Bass spielen und Aidan Keith Lowe Drums
Spotify https://open.spotify.com/intl-de/artist/5dTH532BMHCntC77Bt6nxW
Youtube https://www.youtube.com/channel/UCOwEBf1H7oTabuXofRpAzhA
Donnerstag
06.07.
19:00 Uhr
Musik
little league shows
little league shows prsnts: CLOUDSURFERS (garage fuzz, nl) & RAMKOT (noisy indie rock, be)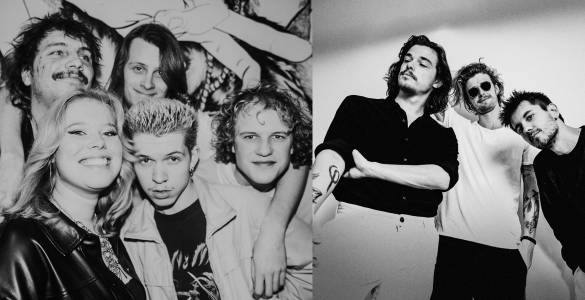 doors 19h, show 20h, aftershow djs tba.
little league shows prsnts:
CLOUDSURFERS /// garage-rock / fuzz-punk, nl
cloudsurfersgarage.bandcamp.com / instagram.com/cloudsurfersmusic/
& RAMKOT /// heavy noisey alternative-rock, be
linktr.ee/ramkot / instagram.com/ramkot.band
at Schokoladen. doors 19 uhr, concert starts 20 uhr. tickets for the concert at the doors and in pre-sale --> https://vvk.link/2oa7n9s
aftershow djs tba.
---
Unpredictable, sweaty, fiery: CLOUDSURFERS are one of the most exciting names on the Dutch garage punk scene. Their explosive live shows feel like a shot of adrenaline right to the heart, Uma Thurman style! This fuzz drenched band (with a twin drummer setup) will run you over like a heavy weight freight train. With debut album Subhuman Essence in the pocket, they're slowly becoming a live phenomenon in the Netherlands. They are inspired by Osees, King Gizzard & the Lizard Wizard and Ty Segall. Standing still is not an option.
---
Belgian trio RAMKOT make ram-rock. Headstrong rock which warrants headbanging just as much as it does dancing! Formed in late 2017 by the brothers Leyman, they soon found Hannes Cuyvers as a third brother to help realise their passion for creating a distinct, compact sound. For fans of Queens of the Stone Age, The Raconteurs, Millionaire, Soulwax, De Staat, Triggerfinger and STAKE.
In February 2023 Ramkot's debut album will arrive. With the singles Exactly What You Wanted and I Can't Slow Down the band already gave fans and critics alike a taste of what to expect. With a big tour planned, the band cannot wait to present their new music throughout Europe.
Freitag
07.07.
19:00 Uhr
Musik
süper!nice!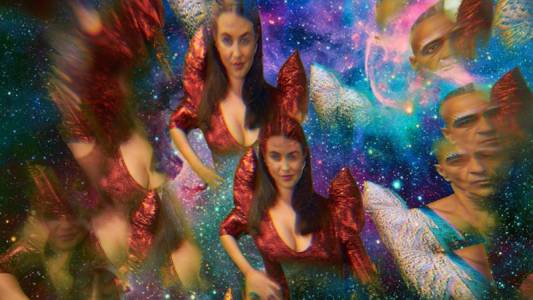 Surrealia + Lyhre
Einlass: 19 Uhr
Beginn: 20 Uhr
Tickets: https://vvk.link/2nascs0
Surrealia wurde 2019 als Duo von der Sängerin und Musikerin Angela Chambers mit dem Filmkomponisten/Musiker Steffen Kahles gegründet. Sobald Covid alles lahm gelegt hatte, begannen sie mit dem Schreiben und Entwickeln erster Songs - eine perfekte Zeit für die Band, um im Studio produktiv zu werden. Eine unstoppable music machine: Angela schreibt Texte und Melodien, Steffen die Musik, ebenso produziert er und achtet auf den Gesamtsound: jenseitiger Future-Pop-Rock mit Einflüssen aus zehn Jahrzehnten, von den 20er Jahren gestern bis zu den 20er Jahren heute. Ihr erstes Konzert spielten sie am 16. Juli 2022 im Badehaus zusammen mit einer hervorragenden Besetzung von Musikern aus der Ukraine.
Neben Surrealia werden die Bassistin Erika Slobodenuak (Jamala) und der Schlagzeuger Eugene Kostyts (Jamala) sowie Valeria an den Synthesizern/Tasten auf der Bühne stehen.
Lyhre is a multi-instrumentalist, singer-songwriter, producer and composer. Her Debut EP got part of Netflix series Élite. Earmilk described the musician, besides other tastemakers, as an artist "pushing boundaries and evolving into a new era of alternative bliss" Further she works in performance art, sound design and multimedia projects and has composed for the major theaters in Germany.
Samstag
08.07.
19:00 Uhr
Musik
little league shows
my little underground & lls prsnt: JETSTREAM PONY (indie-pop/post-punk, uk) & THE BV'S (indie/shoegaze, ger)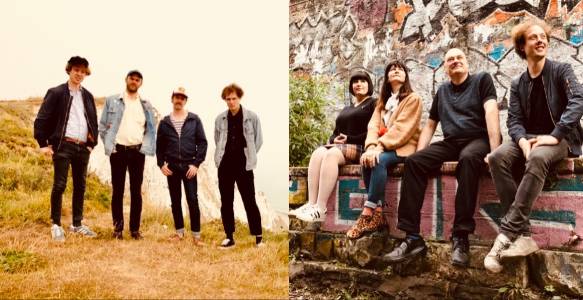 doors 19h, show 20h, djs after 22h
my little underground & little league shows präsentieren:

live:
JETSTREAM PONY (uk)
THE BV'S (ger)

DJs:
DJ Buckingham Rabbit
Mc Dirlenbakker
Dj Dreams Never End

Einlass: 19 Uhr
Beginn: 20:00 Uhr
tickets fürs konzert an der tür oder im vorverkauf --> https://vvk.link/2l9hw7k

DJs nach 22h.

---
JETSTREAM PONY spielen schrammeligen Post-Punk und Indie-Pop und haben ihren Sitz in Brighton und Croydon UK.

Die Band besteht aus Beth Arzy (The Luxembourg Signal, Lightning in a Twilight Hour, Trembling Blue Stars) am Gesang, Shaun Charman (The Wedding Present, The Popguns) an der Gitarre, Kerry Boettcher (Turbocat) am Bass und Hannes Mueller (The BV's, Endlich Blüte) am Schlagzeug.

Die Band veröffentlichte Ende 2017 ihre Debütsingle "Like You Less"/"Had Enough", die auf der ganzen Welt, darunter BBC6 Music, gespielt wurde. Mit der 12-Zoll-EP "Self-Destruct Reality" und der Single "I Close My Eyes" tourte die Band durch Großbritannien und Deutschland, bevor sie im Mai 2020 das selbstbetitelte Debüt-Studioalbum bei Kleine Untergrund Schallplatten und Shelflife Records veröffentlichte und dafür fantastische Kritiken (darunter fünf Sterne im Shindig-Magazin) erhielt.

Beide Pressungen waren rasch ausverkauft, bevor das Album im Herbst 2020 auf Spinout Nuggets auf Vinyl neu aufgelegt wurde und viele Best-of-Year-Listen erreichte.

Zwei weitere ausverkaufte Singles folgten zusammen mit einem neuen Mini-Album "Misplaced Words" im Dezember 2021. Das Album entwickelte den Sound des Debütalbums weiter, wobei die Balance zwischen Indie-Pop und etwas Dunklerem intakt blieb. Beths wunderbare Stimme und die zwölfsaitige Gitarre werden von schweren Bässen untermauert, Harmonien von einer manchmal aus zwei Schlagzeugern bestehenden Rhythmusgruppe.

https://jetstreampony.bandcamp.com

---
THE BV'S sind eine vierköpfige Musikgruppe aus Augsburg. Ihr selig melancholischer, schleifenartig desintegrativer Mix aus Twee, Shoegaze und Krautrock entsprang 2016 aus einer schicksalhaften Begegnung im kaskadierenden Granitgrau eines nassen Winters in der englischen Grafschaft Cornwall.

Im Rahmen eines Universitätsaustauschprogrammes zog Fred als Mitbewohner bei Josh ein, gegen Ende des Semesters entstanden in kurzer Zeit in bester DIY Manier die Lieder und Aufnahmen zum ersten Album "Speaking from a Distance". Mit Ihrer Musik kombinieren sie unbefangen die verworrene Romantik von c86 bzw. Sarah Records mit der repetitiven Experimentierfreudigkeit von Krautrock und verhalltem, sehnsüchtigem Shoegaze.

Für the bv's charakteristisch entstehen in dieser Synthese sowohl dreiminütige, janglige Popsongs als auch extensive Kraut-Improvisationen. Seit 2016 veröffentlichte die Gruppierung zwei Alben und eine EP auf dem deutschen Indie-Label Kleine Untergrund Schallplatten, sowie Singles und EPs bei internationalen Indie-Labeln wie Cloudberry Records (USA), und tourte in Europa und Großbritannien

https://thebvs.bandcamp.com