Veranstaltungen
Samstag
03.06.
19:00 Uhr
Musik
ApocaLipstick Disco
EDEN WEINT IM GRAB (Dark Metal) + DEATHCULT 69 (Doom). after 22h DJ Mietze Fiebels (wave pop post-punk indie 90s).
EDEN WEINT IM GRAB
Die Berliner Dark Metal Band EDEN WEINT IM GRAB hat sich seit 2004 in der Gothic-und Metal-Szene etabliert. Der Sound besticht durch heavy melancholisch skurrile Facetten und kombiniert diese Elemente aus Gothic und Black Metal mit kammermusikalischen Elementen. Die in deutsch verfassten Lyrics faszinieren durch finstere und morbide Poesie und reflektieren die dunkelsten Abgründe unseres Daseins.
EDEN WEINT IM GRAB spielten unter anderem auf folgenden Festivals: Wave-Gotik-Treffen, M'era Luna, Hexentanz, Castle Rock, Darktroll und Rock For Roots. Neben vielen weiteren Konzerten tourten sie mit Nachtblut und Coppelius.
Die bisherigen acht Studioalben der Band erscheint im Frühjahr 2023 ein weiterer Longplayer, den EDEN WEINT IM GRAB auf Tour präsentiert.
DEATHCULT 69
Wie soll man Deathcult 69 beschreiben? Sie sind die Wiedergeburt der Sünde und Anklage derselben zugleich. Ein Todesstoß in das Herz der Bigotterie dieser Gesellschaft. Reminiszenzen an ehrwürdige Majestäten wie Type'O'Negative, The Mighty Sphincter oder Electric Wizard bahnen sich ihren dunklen Weg durch das kosmische Infernalwurmloch direkt in das neupulsierende Herz aufschreiender Verzweiflung um aufzuerstehen in Dystopie und Hölle. In Satan's Namen: Der Teufel macht Party!
Hinter diesem Projekt verbergen sich die Wisborg-Mitglieder Konstantin Michaley und Luc Lacroix, welche ihrem Weg treu bleiben und den Sound von Dunkelheit und Licht vereinen und in ein neues Zeitalter transportieren.
Mittwoch
07.06.
19:00 Uhr
Musik
Lofi Lounge
loFi lounge prsnts: Patokai [elektopunk°bln°buenos aires] + Cleo T. [indie°fr]
Patokai (Elektropunk)
Patokai ist ein Elektropunk-Live-Act, der synthetische Riffs,
elektronische Drums, verzerrte Vocals und Vocoder kombiniert und das Publikum in die Intensität
einer Rockshow versetzt, die mit elektronischen Stilen wie Indietronica, EBM,
Basspop, Electroclash und Synthrock verschmilzt.
Patokai teilte sich die Bühne mit Musikern wie Peaches, Crystal
Castles, Vive La Feté. Er hat mit Produzenten wie DJ Hell zusammengearbeitet
und an zahlreichen Festivals und Clubs wie dem Fusion Festival, der Red Bull Music
Academy, dem Säälchen und dem Bi Nuu teilgenommen und in den 10 Jahren seiner Karriere
mehr als 200 Shows auf der ganzen Welt gespielt.
https://de-de.facebook.com/patokaielectro/
https://www.instagram.com/patokaielectro/?hl=de
Cleo T.
Theatrical concert, Art installation or poetry reading, the show is a fully sensitive experience.
As the opening of Dante's Divine Comedy, we enter a glow-in-the-dark Forest, where fireflies will appear. The songstress takes us on a mystic ride where music meets cinema.
Unclassifible and mesmerizing.
Donnerstag
08.06.
19:00 Uhr
Musik
thirsty & miserable
YASS (Punk-Noise-Cyber-Indie-Rock, Freibung) + AACKR (Instru-Noiserock, Köln) + Cesar Palace (drum solo of tribal noisy technorave)
doors 19:00 - show 19:30
Tickets: https://vvk.link/2nmzqog

Markus und Frank von KURT, TEN VOLT SHOCK und MAULGRUPPE sind seit 2012 als Duo YASS aktiv und werden voraussichtlich im Sommer ihre dritte LP aufnehmen.
YASS ist eine Symbiose aus Postpunk, Noiserock, Synth Loops und pulsierenden Beats. Referenzen sind Psychic Graveyard, Electric Electric oder Trans Am.
Das OX-Fanzine schreibt: "So hat definitiv noch keine Band geklungen...Yass sind bar jeder mir bekannten Referenz, außer vielleicht den Bands, in denen die beiden Herren sonst tätig sind, nur entfernen sie sich mit dieser LP in großen Schritten davon, um ein eigenes Universum zu schaffen."
Das True Trash Fanzine meint: "Yass spielen Punk-Noise-Cyber-Indie-Rock...aber auch das greift zu kurz und kann die Vielfalt und Breite des Duos nicht erfassen. Das ist auch relativ schwer in Worte zu fassen. Ziemlich abgefahrene Mischung. Und einzigartig. Sehr, sehr einzigartig."
Seit 2018 sind sie außerdem mit Jens Rachut als "Maulgruppe" unterwegs und haben bisher 2.LPs auf "Major Label" veröffentlicht.


AACKR
machen Noiserock, instrumental, mal reduziert, mal brachial, nicht mehr, nicht weniger.
Dabei reizen sie ihre Möglichkeiten konsequent aus, spielen immer wieder mit gängigen Klischees und Erwartungen.
Reduktion als Chance könnte das Motto sein.
Was bleibt fordert heraus, polarisiert.
Cesar Palace
is Electric Electric ,Colonie de vacances drummer's solo project.
Freitag
09.06.
19:00 Uhr
Musik
OFFBEATCLUB
Wood In Di Fire (Ska, Jazz, Reggae, Rocksteady) & Everything Crash (DJ-Set)
22h Everything Crash DJ-Set (laboratory for Ska, Rock Steady & Early Reggae)
Mit Jamaican Jazz und handfesten Reggae-Grooves bringen Wood In Di Fire bei ihren Live-Sessions die Dancehall zum Toben. Was als Jam-Projekt von Musikern aus verschiedenen Berliner Bands begann, hat sich zur festen Formation entwickelt. Doch der Session-Gedanke ist immer noch lebendig: Die Bandmitglieder und Gäste bringen die verschiedensten Einflüsse aus Reggae, Jazz, Ska, Latin und Afro-Beat mit und sorgen damit immer wieder für überraschende Kicks.
Seit das Projekt im Jahre 2000 startete, spielt Wood In Di Fire traditionell im Berliner "Schokoladen". Der bis heute monatlich stattfindende Reggae-Jam wurde schnell vom Geheimtipp zum etablierten Termin der Berliner Reggae-Szene.
Aftershow DJ's Everything Crash (Ska, Rock Steady & Early Reggae)
Montag
12.06.
19:00 Uhr
Musik
little league shows
little league shows & EAV prsnt: BANDIT VOYAGE (lofi wave exp-pop duo, ch) & THE GONDORS (psych dream-pop, bln)
doors 19h, show 20h.
little league shows & EAV prsnt:
BANDIT VOYAGE /// duo boîte à rythme lofi amour bizarre, ch, entreprise/cheptel recs
instagram.com/bandit_voyage / banditvoyage.bandcamp.com
& THE GONDORS /// psychedelic dream-pop, bln
instagram.com/thegondors / thegondors.bandcamp.com
at Schokoladen. doors 19 uhr, concert starts 20 uhr. tickets at the doors and in pre-sale --> https://vvk.link/2nmile8
---
»BANDIT VOYAGE is a unique band with elements of Pop, Rock, Wave, Oriental, drum machines, bass & guitar! They even made an upbeat Post Punk track feat. Lee Scratch Perry before he passed away.

The duo is fronted by Anissa (also in the up-and-coming Barrio Colette band), an intriguing young Geneva singer of berbere origins sporting a special voice with semi-ironic lyrics, and her talented co-singer/musician, who used to play with the successful Mama Rosin. Robin also plays in & produces many bands in the French part of Switzerland with the bubbling Cheptel Records.
Signed to the French label Entreprise, they have found recognition on francophone radios with the release of their second album in 2021 and many shows in clubs and Festivals across Switzerland, France & Europe.

Mid-2023 they will release their third album!«
---
»THE GONDORS are a psychedelic pop band based out of Berlin, whose members have dabbled in other notable bands such as Chuckamuck, Hellshovel, Gelbart, Charlie Megira and The Modern Dance Club, to name a few. With colourful vibes, fun melodies, serious instrumentation and an overall sonic impact, this is not a band that you want to miss!«
Mittwoch
14.06.
19:00 Uhr
Musik
thirsty & miserable
Aidan Baker Trio (Ambient Noise/Slowcore) + Kiki Bohemia & Sickerman ( Kraut/Noise/Drone)
doors 19:00 - show 20:00
Tickets: https://vvk.link/2nn1vu8

AIDAN BAKER TRIO
Aidan Baker is a musician from Canada, currently based in Berlin, making guitar-based music ranging from ambient/experimental to post-rock to drone-jazz, both solo and with various groups, mostly notably the dreamsludge duo Nadja. In support of recent releases of his more minimalist slowcore/textural-noise-rock style of music on such labels as Consouling Sounds (BE) and Improved Sequence (IT), and the forthcoming album Engenderine on Midira Records, Baker will be joined by Tristen Bakker on bass and Angela Muñoz Martínez on drums. Tristen makes noise / soft noise / prog / not prog / ambient / punk music in Berlin. Angela is a musician and performer from Seville, Spain. She plays with several groups in Berlin, including nunofyrbeeswax and (also with Aidan) Hypnodrone Ensemble, and is deeply influenced by her background as a dancer.

Kiki Bohemia is a singer and autodidactic player of lost and found instruments and toys. After being the singer of the legendary Berlin off-swing band Bohemian Crystal and working as a touring and studio musician for international artists, she started recording and releasing her own material, combining classical songwriting and hypnagogic pop with soundscapes and field recordings. She has been writing and producing music for film, art performances and live radio plays as well as being part of various bands and musical projects of her own.

Sicker Man has been producing high-class song material for many years now. He tirelessly hones his sound. The frequency of his output seems to increase continuously. His creativity is boundless and over the years, Vethake has refined his songwriting in every respect. The arrangements are finely crafted and the production is highly impressive. Yet Vethake's actual strength lies in his melodies. For SICKER MAN, the term "hook" is most apt. With instinctive confidence and a minimum of notes, his melodies become hook-lines that are inevitably catchy. His songs have something classic about their character. SICKER MAN displays no fear of the grand gesture. Again and again, he swims in massive, noisy widescreen guitar sounds. But from there it is only a small step to intimate chamber music sketches. Neither one nor the other is an end in itself. Everything serves the song. In those songs, the Berliner evokes wanderlust, desire, euphoria and depression.


Freitag
16.06.
19:00 Uhr
Musik
little league shows
little league shows & my little underground prsnt: MINIMAL SCHLAGER (progressive disco, bln) & WORLD WILD WEB (esotheric pop, bln).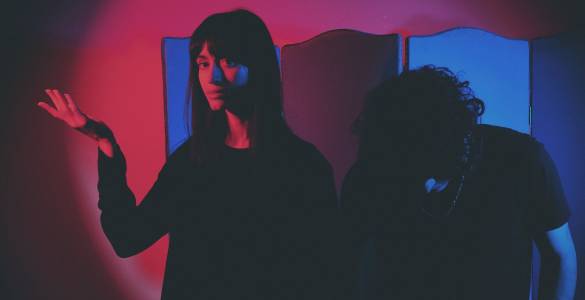 doors 19h, show 20h, aftershow: SOME KIND OF HAPPENING DJ set
little league shows & my little underground prsnt:

MINIMAL SCHLAGER /// synth-pop/progressive disco, bln
minimalschlager.bandcamp.com/ /// instagram.com/minimal.schlager/

& WORLD WILD WEB /// esotheric pop/oblique club music, bln
worldwildweb.bandcamp.com /// instagram.com/world.wild.web.mp3

at Schokoladen. doors 19 uhr, concert starts 20 uhr. tickets for the concert at the doors and in pre-sale --> https://vvk.link/2mky54g

Aftershow DJ set by SOME KIND OF HAPPENNING

---
»Based between London and Berlin, Minimal Schlager operate at the intersection between Italo disco, the darker corners of New Wave and various forgotten sounds picked up in the dive clubs of Berlin, a direct sweet spot between pure pop and haunting, Lynchian synth pop. Following the release of their debut album "Love, Sex & Dreams" recorded by Robbie Moore (Florence + The Machine, LA Salami) on Duchess Box Records, the band went on a European tour performing 30 dates across 8 countries and supporting the likes of The KVB, Ploho, Torres and Lust for Youth.«

---
»World Wild Web is the project of French Berlin-based producer and singer Manuel Jesus, evolving between leftfield electronic, oblique club music and esotheric pop. WWW's music is intricate and instinctive, resulting in a wide sonic range which creates a disruptive sound rooted in the Berlin electronic scene. His sound was forged in a pool of chaotic influences, namely 70s protopunk, vintage house, afrobeat, Indian music and dark synth pop.«
---
Over the past few years, Jim Avignon (Neoangin), Paul Pötsch (Trümmer) and Andre Jegodka (What Difference Does It Make) have found themselves in various pop cultural adventures together. From concerts, garden parties or cultural projects, everything was there. However, the great passion of all three is the joy of DJing. So it is the logical to bring their own party to life. The new series with the meaningful name SOME KIND OF HAPPENING lies in the area of tension of Indie Pop, Northern Soul, Girl-Groups, C86 and Post-Punk and should celebrate the love of nerdy music apart from any dogmatisms.
Samstag
17.06.
19:00 Uhr
Musik
Ab 22 Uhr: Auf 1,2,3,.. Bier mit Schwerelos
JNNRHNDRXX
Einlass: 19 Uhr
Beginn: 20 Uhr
Tickets: https://vvk.link/2i7j4s0
Ab 22 Uhr: Auf 1,2,3,.. Bier mit Schwerelos
"Who run the World?" war einst der Schlachtruf von Beyoncé. Die Antwort darauf: "Girls!" Die in Berlin wohnhafte Rapperin JNNRHNDRXX (ausgesprochen: Jenner Hendrixx) zitiert den US-amerikanischen Weltstar in ihrem jüngsten Track Mad Bitch und lässt keinen Zweifel daran, wer in ihren Augen das sagen hat: Frauen, und zwar alle Frauen! Für wen sie keine Zeit hat, sind "nervige TERFs". Zu pumpenden Beats rappt sie im Video in hautengem roten Latex-Outfit in fresher Rap-Manier über ihre Liebe zu sich selbst und appelliert zeitgleich an ihr Publikum, ebenfalls zu sich selbst zu stehen und füreinander stark zu sein. In einer Zeit, in der die trans* Repräsentation in den Medien nach wie vor bestenfalls dürftig ist, ist JNNRHNDRXX die "Mad Bitch", die wir brauchen.
Mittwoch
21.06.
19:00 Uhr
Musik
Lofi Lounge
ByDS + NIKI NEUN (Record Release Party)
Fete de la Musique - Open Air - Eintritt Frei!
Läuft im Rahmen der Fete de la Musique vor dem Schokoladen (Free Entry)!
https://youtu.be/F-9gAy-jMfA
https://www.youtube.com/@NikiNeunOfficial

NIKI NEUN
Sonnige Gemüter mit Trauerflor.
Der unerschütterliche Glaube an die Möglichkeit.
NIKI NEUN müssen los. Prokrastination no more.
Viele Irrungen, Wirrungen und das zu bewerkstelligende Leben an sich führten zu Pausen, stehen NIKI NEUN seit 2020 in stabiler Formation abfahrbereit. Von Berlin-Tempelhof aus, via Chicago, Seattle und London zurück zu dir, mon amour.
Die musikalischen Andeutungen von Böen (LP, 2012), Der Unstern (EP, 2017) und mehreren Singles endlich verdichtet, zugespitzt und auf den Punkt gebracht, zusammengeschnürt in ein kompaktes Paket.
Das kommende Album: vor Freude, Leidenschaft & Ideenreichtum quasi berstend ins Leben geworfen, stehen sie im Lichte der Zeit. Der erste Beweis: die aktuelle Single "Tollkühn".
NIKI NEUN sind Arndt Niemeyer, Leonardo Ramirez, Lucy Kaewprasert, Marc Gundermann.

https://www.instagram.com/nikineunberlin
https://nikineun.bandcamp.com/
https://www.youtube.com/@NikiNeunOfficial

BYDS
This new Project is a succulent collaboration of multidisciplinary, multinational, multilingual creatives, where a fine artist, a cinematographer and a musician&composer, found each other in music. A mix of creative and cultural mexican, english and german backgrounds that got together to have fun! Their electronic sound has fresh rythms, beats and guitars, with dark melodies. Byds wants you to question yourself without ever stoping to dance.
​
https://youtu.be/F-9gAy-jMfA
https://www.bydsmusic.com/
Donnerstag
22.06.
19:00 Uhr
Musik
thirsty & miserable
Goldzilla (Deutschpunk/Dreampop, Bln) + ROi!m- & StrOi!- FahrzOi!ge (Hohenschönhausen Oi!)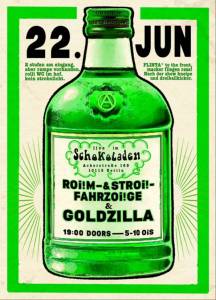 doors 19:00 - show 20:00
Eintritt 5-10oi, no presale, just a stamp at the door.

Goldzilla. Das ist dieser dicke, stückige Strahl den du kotzt wenns dir an Tagen wiediesen mal wieder dämmert, dass zwischen Dorfbumsbierzelt und AZ-Party oft nur einschmaler Grat aus Patches und Punkzines liegt. Musik, von und für Szenespalter, die dir mit Salz und Essig in die offenen Wundengerieben wird. Die dich schubst und bepöbelt und dann doch irgendwie abholt, wassowohl an der musikalischen Exzellenz, den catchy Hooks, als auch nicht zuletzt ander charismatischen Erscheinung der drei Gestalten liegt, die die Goldzilla vs Dortmund geschrieben haben.So wie auch diesen Text, der vor Eigenlob nur so stinkt. Und die Leute halten das Deutschpunk & Dreampop Ding immer für ein witziges Wortspiel, aber dieses Album ist halt genau das.