Freitag 25.10.2019 19:00 Uhr
Musik
ApocaLipstick Disko presents: KAELTE // Folk Noire + LEDING // Dark Folk for the Broken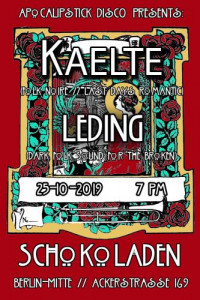 Aftershow: Alex Plush AnderS and Friends (Glam/Punk/Wave)
// KAELTE //
KAELTE ist ein deutschsprachiger Musiker, der sein Schaffen gerne als Endzeitromantik beschreibt. Der allgemein düstere Klang wird zusätzlich durch den melancholischen Gesang des Sängers abgerundet. Seit 2006 entwickelt Sven Martin seine eigene Interpretation von Musik. Inspiriert von einer Vielzahl künstlerischer Einflüsse entstanden so vier Alben, die sich stilistisch in Richtung Darkwave, Darkfolk und Neofolk bewegen. Die melancholisch fragilen Klanggebilde wollen bewusst experimentell bleiben und durch ihre Schlichtheit bestechen. Gebündelt mit lyrisch deutschsprachiger Textkunst manifestiert sich das Gesamtwerk in einer Einzigartigkeit die das Publikum in ihren Bann zieht.
https://www.facebook.com/kaeltemusik/
https://kaeltemusik.bandcamp.com
// LEDING //
Guitarist. Songwriter. Vocalist.
After nearly three decades of playing the guitar and writing songs in rockbands, playing countless gigs with a full band lineup letting his ears bleed, it apperars that one day he found himself buying an acoustic guitar and to write and play solo acoustic songs. Songs for the broken. But his roots still are what they´ve ever been:
Classical independent artist with a tendency to dark melancholy, tragedy and dreaming. Sounds, produced with acoustic as well as with electric guitars, sometimes consistently use of effect devices and thus not following the ascetic purism of classical singer-songwriters. The voice, also an instrument, penetrated by the spirit of doubt: sometimes clear and melodious, sometimes brittle and complaining, sometimes hard and rough and cold. No poet, rather a seeker in the space between the tones and the sound, thus encrypting messages, knowing that there may be different, partly paradoxical interpretations.
https://www.facebook.com/ledingsolo/
https://open.spotify.com/artist/6uYCGNyRk4NHgGrviCrNWN?si=5UPencI8Rey-sdUXr1xR5g&fbclid=IwAR0_zZYHIVu88iJMW1CjXpT-izdSYcvR0Bj7xQhe5tHeMD6nZwxCztv7uUI
// Aftershow: //
Alex Plush Anders
(Glam / Punk / Wave)